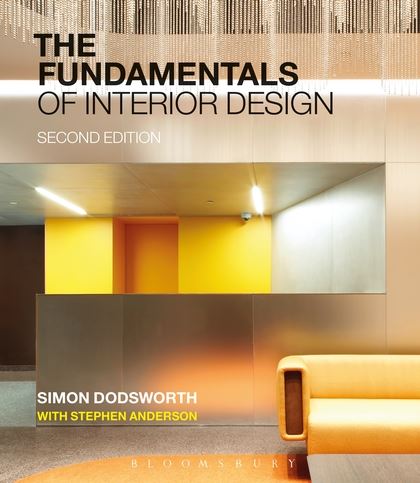 Review by Charitaa Bagry
Written by Simon Dodsworth
Every designer has to go through a design process to create a new space. It is a journey, which starts from the analysing of their clients, the scope of work, the budget, time and resource estimates, then proceeds to developing and transforming the space of the client into a workable environment. To achieve good results, every designer must work within a framework of personal and professional regulation time management skill, learning how to charge the fees and making a contract before starting the work. The most important step of designing is getting to know your client. After the inflow of the basic information, the designer brainstorms and mind maps to analysis and evaluate the information to start formulating ideas.
Other basic steps include site analysis, Concept development, design sketches, technical drawings and material selection. There are lots of site visits during this process, measurements and on-site sketches. Other things to be kept in mind:
The decorative scheme
When creating a scheme, designer should keep in mind, the colour, texture and form.
Texture: Texture can be found in all manner of guises; it can be the roughness of a piece of chenille fabric or the natural undulations of unfinished timber.

Form: Furniture declares the period from which it originates through its shape and other cues of pattern and surface decoration.

Colour: It is a great indicator of mood and our response to colour is experienced on a very elemental level.
Acoustics
One of the prime sensations that we experience and which becomes part of our response to our surroundings is that of sound. So, the way that sound is experienced can add to or detract from our perception and experience of place, and as designers we have the tools to modify and control the acoustic properties of an interior.
Furniture: Freestanding
Easy to place in the room, flexible to re-position. More expensive.
Built-in: It will occupy the exact space that that user needs and unique in style.
Colour
Warm colours are used to show hot, stimulating and soothing to our emotions, which crave warmth.

Cool colours show calming, focusing and soothing to our intellect, which craves a cooler atmosphere.

White allows the room look bigger and spacious.
Light
Both natural and artificial light plays a major role in shaping the decorative scheme.
Climate change
Sustainable design is the philosophy of designing physical objects, the built environment, and services to comply with the principles of social, economic, and ecological.
Energy-saving strategies and services
Double/Triple glazed windows: heat retaining

Insulation for hot water tanks and pipes

Micro-electricity generation technologies: Wind, Hydro and Solar panels
Sustainability and material use
Acquiring natural materials can put ecological strain on the local environment. Stones are getting exhausted, timber is causing exhaustion of forests and climatic changes.
Telling the story
The client needs to be educated about the ideas and concepts incorporated in the design.
Presentation drawings
One can create a pseudo 3D effect drawing, usually drawn to represent the space as viewed from outside its boundaries or a drawing that emulates a scene as seen by someone standing within the space.